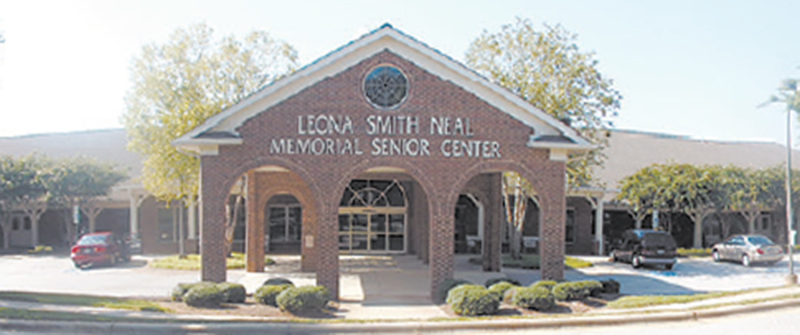 Like many organizations, the Neal Senior Center (NSC) has faced many challenges during the past year.
"Since the pandemic began, the most commonly asked question has been, 'When are you planning to reopen?'" says Paulette Putnam, Neal Center executive director. "This is a question that has been on the minds of not only the patrons of the Senior Center, but on the minds of the Neal Center board and staff, too."
Recently, Putnam was finally able to answer this question - at least in part.
"We have begun opening with limited activities since the beginning of May," says Putnam. "If things continue to go well, smaller classes will be added in July."
Many precautions are being taken to ensure participants' safety and well-being, she says.
The center is currently open to participants from 9 a.m.-3 p.m. Monday-Thursday and from 9 a.m.-12 p.m. on Friday. Masks are required, except where noted, and no congregating is permitted in the lobby or halls.
The following spaces are now available at the NSC: rec room & billiards, the exercise room, the outdoor walking track, the gift shop and the library. Each of these areas has different hours that they are available due to cleaning breaks throughout the day.
"Participants may register one day in advance at the reception desk in the lobby or by calling the center at 704- 482-3488," says Putnam. "We are only allowing people to sign up for one daily slot for each activity; then if there are open slots during the day, clients currently at the center may fill the additional slots." Other current guidelines at the NSC include:
• Masks must be worn at all times, unless a person is having difficulty breathing during exercise or when eating and/or drinking. No food is to be served or brought into the center.
• Participants must stay six feet from others at all times.
• Those who cannot tolerate a mask or need a break from wearing one may sit outside to visit, one person per bench, or they can use the outdoor walking track. Masks must still be worn if walking within six feet of another person.
• Bathrooms will be professionally cleaned with a daily wipe-down of all surfaces, as will other frequently touched surfaces in the building.
• All patrons must enter through the front double doors. No participant is to enter the building by any other entrance. Every participant must agree to and sign a waiver the first time they return to the center.
• Participants must all check in at the sign-in table and check out when leaving for the day.
• Hand sanitizer, which will be available throughout the center, must be used before and after a sign-in and before and after leaving each room.
• One-on-one appointments for services will be held in the library or other available room. Desk guards, hand sanitizer and masks will be used to ensure safety.
• Meals will still be served as "take out." At some point, the Center may move to serving meals in the dining room, two people per table. No other food will be served during initial reopening.
• Participants are encouraged to bring their own two-ply mask, which should fit snugly over their nose and mouth.
• Volunteers will be utilized to help with the sign-in table, wiping down equipment and helping with other tasks as needed.
• Water fountains will be blocked off and their use is prohibited. Water will be available for sale in the gift shop.
• All equipment, such as pool sticks and exercise equipment, must be wiped down with sanitizing wipes after use. Participants are encouraged to wipe down equipment before use to ensure it is thoroughly clean.
• If clients are waiting for a time slot and the room is at.capacity, they may wait outside. No congregating in the lobby for sustained lengths of time will be permitted. All reopening plans are subject to change; please contact the center at 704-482-3488 for the latest updates