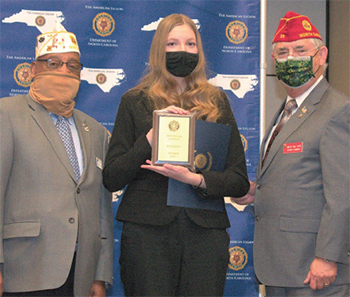 The Shelby American Legion 82 Family hosted the State Oratorical Finals competition at the LeGrand Center on Sunday, March 7, 2021.
State contest coordinator Jim Quinlan said, "This was the 83rd annual American Legion Oratorical Contest and had four participating contestants, all winners from their particular regions throughout the state."
He continued, "This Constitutional speech contest is open to all high-school-aged students. Winners receive medals and scholarship monies."
Mr. Quinlan, Commander of American Legion Post 23, noted that due to continuing precautions about COVID-19, the AL's National competition, which is traditionally held in Indianapolis each April, was canceled.
"However," he added, "the winning student in each participating state received an additional $5,000 scholarship from the National American Legion Headquarters," with $11,500 being awarded to the four NC contestants.
Mr. Quinlan noted Burns High School sophomore Savannah McGlothlin, represented the local area, adding, "She advanced through local, district, and division competitions to the state finals."
The title of Savannah's oration was, "What Compromise Means to the Constitution."
At the Sunday, March 7, contest, Savannah was awarded second place, along with a $2,000 scholarship, said Quinlan, in the media release.
Other contestants included Emma Hall, who representedApex American Legion Post 124. Emma took first place in the contest and received a total of $7,500 in scholarship money.
The other two contestants were Andrew Jackson of Bolivia, NC, who took third place, and Moira Gleason from Charlotte, who finished fourth. Each received a $1,000 scholarship.
Mr. Quinlan said Post 82 invit- Oratorical Judges Durwin Briscoe; Tamara Barringer; Greg Stearns; Rep. Virginia Foxx; Dr. Bill Downs and Andrew Hopper Sr. (photos provided) ed several distinguished judges for the contest.
"The judges included U.S. Congresswoman Virginia Foxx, who represents the 5th Congressional District; Tamara Barringer, Associate Justice for the NC Supreme Court; Shelby City Councilman Andrew Hopper; Durwin Briscoe, Deputy Assistant Chief for Cleveland County Sheriff's Office; Dr. William Downs, Gardner-Webb University President; and Gregory Stearns, Thomas Jefferson Academy Philosophy and Logic Educator," he said.
Jim continued, "The American Legion was well-represented at the contest, with many officials in attendance, including Bill Oxford, the Legion's National Commander from Lenoir, NC, and James Moore, NC Department Commander. Also, American Legion Auxiliary officers attending included Julie Smith from Salisbury, NC Auxiliary President, and Auxiliary State Vice President Jill Parker-Puett, of Cherryville.
Said Mr. Quinlan, "This annualcontest is highly regarded and draws exceptionally gifted highschool participants each year. Many past participants have gone on to successful careers as attorneys, politicians, and other professional careers. Several notables who won the American Legion's National competition in the past were former Vice President of the United States, Mike Pence, and Jane Pauley, a distinguished journalist and television personality for over 25 years."
It is to be noted thateach fall, Legionnaires fromacross the state begin contactinglocal high schoolguidance counselors toinform them about the contest and speak to interested students.
The American Legion is the nation's oldest and largest veterans service organization, having celebrated its 102nd birthday. However, it also seeks to promote its many youth programs such as the Oratorical competition, American Legion Baseball, Junior Shooting Sports, and more programs benefiting youth, veterans, and the military.
Post 82 Commander Victor Darville thanked the Shelby American Legion 82 Family, which includes Legionnaires and Auxiliary Unit 82 and Sons of the American Legion Squadron 82 members.
Darville said the 2021 North Carolina Oratorical Contest would not have been the highly successful event it was without the leadership of Mr. Quinlan and his
committee's diligent efforts.
Commander Darville thanked all involved and invited those interested in more information about the organization or its many programs to email Post82@yahoo.com.