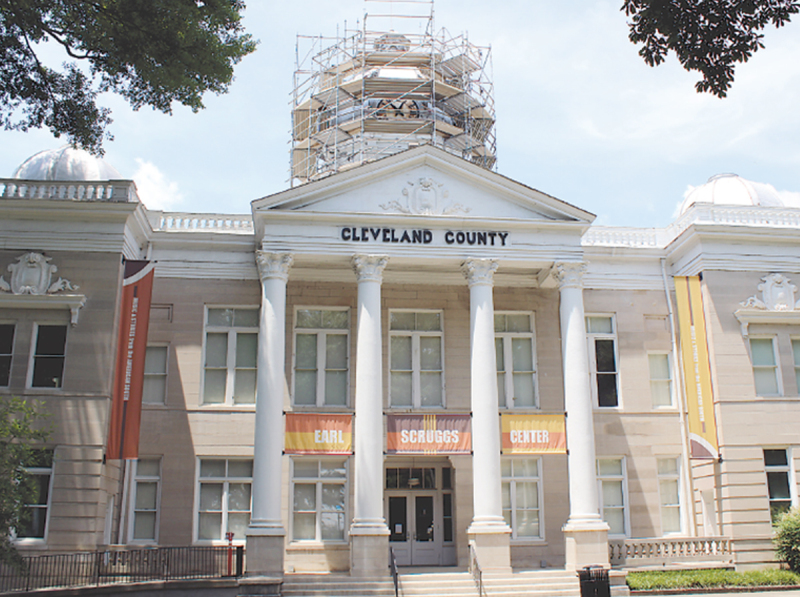 If you have been in Uptown Shelby recently, you may have noticed repair work being done on the historic Courthouse, now the home of the Earl Scruggs Center. As it turns out, that very visible work is just the tip of the iceberg.
"The historic Courthouse is the centerpiece of Uptown Shelby and has served as a gathering place for many years," says Kerri Melton, assistant county manager for Cleveland County. "In an effort to preserve this historic landmark, Cleveland County is making improvements to the roof and the dome."
In addition to the cupola repairs, roof renovations are also ongoing, along with work in some of the building's interior spaces and the ceiling in the great hall. All work is just refurbishing; no major remodeling is being done, according to Melton.
The $125,000 project is very needed.
"To my knowledge, this is the first major repair of the roof since the courthouse was built in 1907," says Melton. "I think there may have been minor repairs, but this is the first full renovation."
"A historical roof isn't simply old, but it's an integral part of a building's character. As we began working on this project, it was important that the roof be replaced to its original state, as this property is a cornerstone of our community." County Commission Chair Doug Bridges agrees.
"The historic Courthouse is over 100 years old and has served as a gathering place for Cleveland County residents for many years," Bridges says. "This historic property, as well as many others throughout the county, plays a critical role in our efforts to increase tourism activity and inject dollars into our local economy."
Work on the building began May 10 and will continue through the end of June, according to Melton. Part of the funding for the renovations was provided by the Cannon Foundation ($25,000) and the Covington Foundation ($20,000).