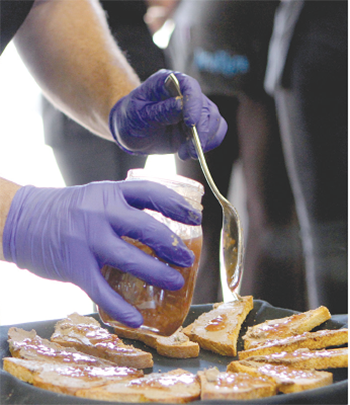 The holidays are over, and the winter seems to stretch on for weeks to come. But the Uptown Shelby Association (USA) is offering a new event on Jan. 11, 2020, that will add some pizzazz to the gray days of early January. The Seeds in Season Winter Dinner will take place that Saturday evening at 6:30 p.m. at Uptown Indigo, located at 112 N. Lafayette St. in Shelby.
"We'll have a six-course culinary experience with beverage pairings in Uptown Indigo's stunning event space," says Audrey Whetten, USA executive director. "A talented team of chefs - led by Jamie Swofford of The Chef's Farmer -- will prepare each course and will speak with guests about how locally sourced ingredients can inspire incredible meals even in the depth of winter."
Seats are very limited to ensure an intimate experience for guests. Tickets are $125 per person, with all proceeds supporting the efforts of the Uptown Shelby Association.
"The theme of this Seeds in Season Winter Dinner is 'preserve,'" says Whetten. "The menu will feature a variety of local foods preserved at the peak of freshness, whether smoked, cured, pickled, canned - and some even finished with fire. The theme also ties into the stunning rehabilitation of the historic Campbell building as well as the Uptown Shelby Association's efforts to preserve historic buildings and foster a vibrant uptown district. The dinner will capture this historic essence and leave guests with a night to remember."
Seeds in Season is a new series of events planned by the USA to be held throughout the year.
"The events will range in format and pricing to offer a variety of opportunities for the community to participate and support the organization's efforts in Uptown Shelby," says Whetten.
The next scheduled event will be a picnic on the Court Square on Saturday, May 9, 2020.
The USA is an award-winning 501(c)(3) nonprofit that began as one of the first 30 Main Street® programs in the country. The organization works to enhance and celebrate the uptown district for the betterment and enjoyment of the community. The USA is an accredited member of the National Main Street Center and an active participant in the NC Main Street Program within the NC Department of Commerce, and has worked to revitalize the Uptown Shelby district for nearly 40 years. Its work includes marketing, community partnerships, business development, events and historic preservation.
For more information about the Uptown Shelby Association or the Seeds in Season events, visit www.UptownShelby.com, search for "Uptown Shelby NC" on Facebook or call 704-484-3100.