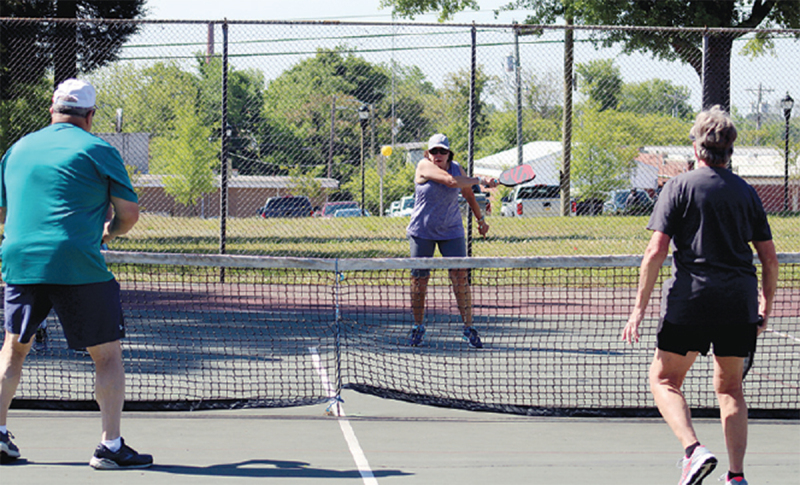 It's one of the hottest new sports sweeping the nation and it is a sport called pickleball. It has, according to its purveyors, been around for quite a quite a while, at least since the mid- 60s.
Shelby's Charlotte Teague and a few of her friends are die-hard pickleball fans (and fanatics!) who, with the Cleveland County Pickleball Association in Shelby, are in partnership with Turning Point Academy of Cleveland County Schools. They are in the process of repurposing four tennis courts at the J.L. Suttle Tennis Complex, which currently belong to the Cleveland County School System, into pickleball courts.
Said Mrs. Teague, "The courts, built in 1979, will become 10 pickleball courts and two tennis courts," for the sole purpose to bring this great little sport - which is played by folks of all ages, from 9 to 90 - to Shelby.Teague noted the courts, located at 400 West Marion St., will be lighted for evening play and available seven days a week. Work is to start on the courts soon and the group is looking for donations from those so led to contribute to help out the school and the organization.
"We got a very generous grant from the Dover Foundation, and we are looking to make it a premier place to play pickleball," she said. "We have players from Shelby, Cherryville, Kings Mountain, and Rutherford County who play here. There are currently over 100 members in our group."
According to the USApickleball.org web site, pickleball was invented in 1965 on Bainbridge Island, a short ferry ride from Seattle, Washington, by three dads - Joel Pritchard, Bill Bell, and Barney McCallum. It is played with paddles and a wiffle ball, and it has been likened to an outdoor game of table tennis.
Cherryville's Jack Allen, 73, who switched from racquetball, said he loves playing pickleball. Paul and Lisa Bolt, of Kings Mountain, both say they lovethe sport and call it "addicting."
Like Teague and others, they travel to play pickleball because they love it so much.
Rutherford County native, restaurateur, and pickleball fanatic Jason Drum, 46, agreed, saying he is also interested in getting it started there as perhaps part of a youth program.
Mrs. Teague said they hope to be finished with the new courts by mid-June, adding, "We want to grow the sport and we want everyone to feel welcome."
Marie Hendrick, Treasurer of the Cleveland County Pickleball Association, said folks who wished to donate could send their tax deductible donations towards the renovations of the existing courts to: Cleveland County Schools and mail them to her, care of: Marie Hendrick, Treasurer, 1309 Stone Gate Dr., Shelby, NC, 28150.
For more information about the organization, call Teague at (704) 692-3039.