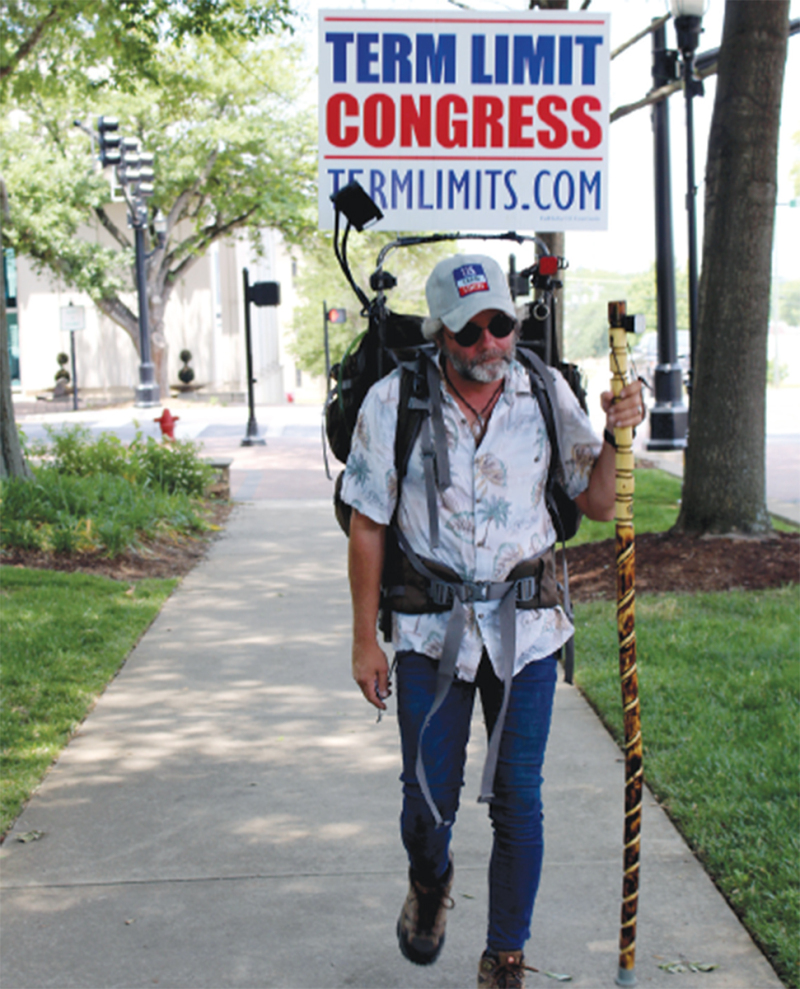 His "Support of Term Limits" crusade is a coast-to-coast endeavor.
On a personal quest to end Congressional term limits, Nashville, TN, resident Tim "Izzy" Israel brought his "Where Izzy?" trek/ tour through Shelby on May 24.
Israel started trekking across the United States on Dec. 22, 2020 to raise awareness and gain support for congressional term limits. He is walking from the southeast corner of America (Key West, FL) and will finish up in the northwest corner at Cape Flattery, Washington.
Jeff Tillman, Israel's friend and van driver, said Izzy started his journey from Key West, Florida, and, when we talked with him, was currently walking through the Old Tar Heel state.
At the time, Tillman, who is the Deputy Field Director for U.S. Term Limits, noted Izzy was on his way to stops in Shelby and Winston-Salem.
The two former Navy veterans met through their shared values on said Congressional term limits - an issue near and dear to their (and many Americans) heart - and a bond formed.
Izzy, 51, said with Jeff's help, his trek went from an "originally low budget" operation to having a van, a web site, a Facebook page and getting media (and politician's) attention everywhere he goes.
"It's great knowing he's got my back when I'm on the road!" said Israel.
Jeff, 64, noted Israel's walking across the country story provides inspiration and raises awareness for something that makes sense to people: placing term limits on Congress.
Israel worked in the music industry, but, Tillman said, "... like every other industry that suffered from the economic fallout of COVID-19, the music business was hard hit and Izzy lost his job." He added Izzy, a father of six, identified a "clear culprit" for his lost job - Congress.
Said Israel, "I thought about their lavish salaries and perks, how they passed legislation that applied to the American public but not to them, how they held thousand- dollar fundraising dinners for people to cozy up to them, and just how detached they are from the people they're supposed to represent."
Israel feels now is the time to illuminate the broken entity of cronyism known as Congress.
Izzy added that "not in recent history" has there been such a time that "...demonstrates Congress's ineffectiveness, failure to diversify" or to legislate with compassion"...for any aspects or concerns of the people." Jeff noted Izzy is doing this for his children and grandchildren, and is fighting for future generations as well. As for the U.S. Term Limits organization, Izzy said, "These guys are doing a wonderful job!"
Regarding donations, Tillman and Israel noted if you feel compelled to donate, please do so.
To donate, or find out more about Izzy's journey, track him on his website at WHEREISIZZY.COM.
To find out more about U.S. Term Limits, go to termlimits.com